Join us at our sewing workshops
Important notice!
Sadly, due to the ongoing COVID-19 crisis, we've suspended all group sewing workshops until further notice. However, we're working hard to develop a series on online resources and tutorials to help you to get sewing your own washable pads at home. we realise that so many have been financially and mentally affected by recent events, so we'd love to encourage people to take the opportunity to learn a new sewing skill and make the switch to affordable and sustainable options to manage their periods during lockdown! Watch this space for more info...!
Freedom4Girls work with a fantastic network of volunteers to sew, assemble and distribute reusable, washable period pad kits for our beneficiaries in Kenya and Uganda.
Freedom4Girls were inspired by the work of Days for Girls, an international NGO with volunteers all over the world who sew and create the period pad packs for girls in need. Days for Girls also provide a menstrual health education programme that boosts confidence and empowers young women and girls.
As well as creating these period pad packs, Freedom4Girls run a 'pen-struation pal' scheme between our UK and Ugandan based schools. This scheme enables our education beneficiaries, boys and girls, across the continents to talk to each other and form unity on their experiences of adolescent life; their favourite hobbies, school lessons as well as their experiences of puberty and menstruation.
The beauty of this scheme has formed bonds across continents and supported in Freedom4Girls' ongoing objective: to normalise the conversation around periods, reduce stigmas and empower young people and communities.
If you are interested in learning more about the sewing workshops, the 'pen-struation pal' scheme or generally about our work on sustainable menstrual products, please don't hesitate to contact us.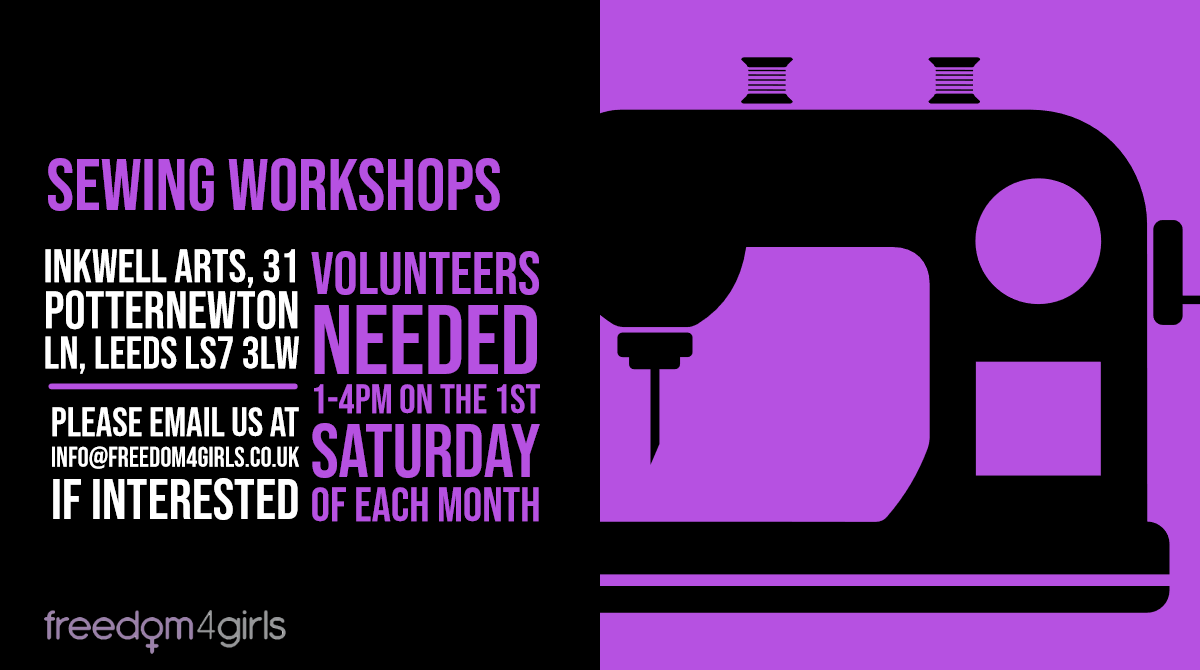 At Freedom4Girls, we are passionate about promoting the importance of sustainability and choice.
Using the Days for Girls, reusable washable pad kit design, we have volunteers who support in creating these pads that are donated to our most vulnerable and in need beneficiaries; primarily those who are involved in our Kenyan and Ugandan projects. 
Through the donation of just one pack of reusable pads, a young woman or girl is provided with three years' worth of menstrual protection to support her ability to stay in school and manage her periods with comfort and confidence.
We run our sewing workshops on a monthly basis, from 1-4pm on the 1st Saturday of each month at:
Inkwell Arts, 31 Potternewton Ln, Leeds LS7 3LW
We welcome all volunteers of all sewing abilities to get involved with the workshops. They are always a fun, relaxing and productive way to spend a Saturday afternoon. Whilst experienced sewers are invaluable, we always have plenty of marking, cutting and kit-assembling tasks for non-sewers!
If you would like to join us at a workshop, please check the website the week before each session as there may be a need to reserve a place depending on expected numbers.
If you are interested in hosting your own workshop (with our support, of course), please contact us!