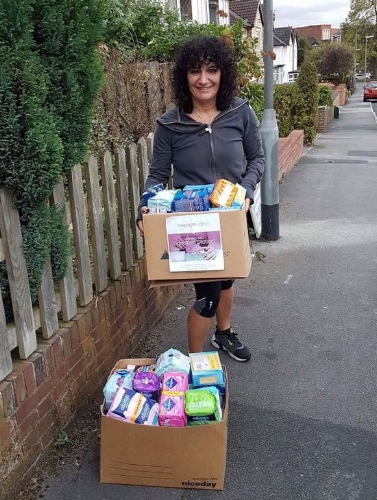 We ultimately want all who menstruate worldwide to have access to safe menstrual protection, as over 300 million women currently do not have this privilege. Girls miss up to 5 days of school a month and women are missing work; this leads to low attainment in school, missed work opportunities, lack of self esteem and exacerbation of the stigma & taboo that surrounds periods. Freedom4Girls are involved in several campaigns that aim to prevent or support in the relief of period poverty in the UK and worldwide. These include:
Actively campaigning for menstrual equality;
Working in partnership with various organisations to supply those in need with a choice of sustainable, reusable pads, menstrual cups or disposables;
Assisting in the provision of menstrual education, training and healthcare projects to reduce the impacts of period poverty;
Delivering quality menstrual education to tackle stigma and taboo around women's physical and mental health experiences affected by their period;
Commissioning and conducting research on the economic, social and environmental impacts of period poverty in the UK and worldwide, and effectively communicating the results of this research to the public.
So far we've made some progress in supplying menstrual products to those in need within West Yorkshire, UK, but a huge amount of work remains to be done to achieve our goals nationally and internationally! Many of the pads and tampons that we distribute (with support from
Fareshare
) to schools, refugees, womens agencies and community groups are kindly donated by the public through our donation stations, but we have also been fortunate to receive significant donations from various organisations and groups; this includes companies such as
Organicup
,
Tesco
,
Morrisons
,
Bodyform
and numerous voluntary, community and faith organisations. Regardless of their origin, all menstrual products are very gratefully received, and we ensure that they are donated to girls and women who desperately need them!