Introducing Initial Washroom Hygiene, supporters of Period Dignity!
This blog is the first in our series of posts in which we're showcasing our amazing partners and supporters, who help us to make a real difference to the thousands of women and girls across the UK and East Africa who struggle to access period products each month. 
If you've had unpleasant experiences of trying to find a pad or tampon in a public washroom, you're not alone! New research* conducted by Initial Washroom Hygiene has shown that 78% of UK menstruators believe that public washroom facilities need to be improved, and lacking period product provision is a huge factor. Initial Washroom Hygiene is looking to change this, and has are  launched a new nationwide campaign alongside their ongoing support for Freedom4Girls, which focuses on providing 'Washroom Dignity' for all, regardless of age or gender. 
Initial Washroom Hygiene is one of our largest ongoing supporters, and has so far provided us with over £13k of funds to support our work, including our menstrual health education programme and period positive spaces work! Our education programme also includes reusable pad provision in East Africa and the UK; Initial Washroom Hygiene has helped us to educate young people about their periods and to provide period products to ensure that they are able to manage their periods with dignity and confidence.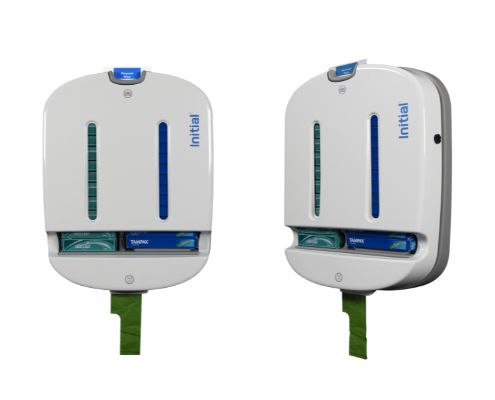 Some of their pioneering work has included the launch of the In Cubicle Period Diginity Dispenser, helping provide products exactly where you need them. These dispensers offer Period Dignity by giving you privacy, and providing access to products at the point of need. Initial Washroom Hygiene is passionate about Period Dignity and in supporting our work on promoting reusable period products. They have shown this by providing reusable period products alongside disposable period products in the In Cubicle Period Dignity Dispensers.
So how exactly do Initial support Freedom4Girls? For every Period Diginity Dispenser installed by Initial Washroom Hygiene, they kindly donate £5 to Freedom4Girls as well as an additional £1 for every box of refills ordered for the units! So to all those business owners out their who'd like to make their business a great period positive environment, please consider sticking free period product dispensers in your loos and help support Freedom4Girls at the same time!
It's great for us to be partnering with a company that has shown so much support for our charity, and is able to show their support of reusable period products in their own work as well. We'd love to give a massive shout out and a huge thanks to Initial Washroom Hygiene for all of your support!
And finally…
Our Period Positive Spaces campaign (supported by Initial) looks to recognise businesses that have gone out of their way to ensure all employees can access a safe and comfortable period at work. If this is something that you would like to be a part of please get in contact with us at info@freedom4fgirls.co.uk.
*The research was undertaken by Opinium in two stages on behalf of Initial Washroom Hygiene. The first survey sample was over 2000 UK adults, with a breakdown of over 1000 UK female adults. The survey was carried out online between 11th – 12th April 2022. The second survey sample was 2000 UK adults carried out online between 22 – 26th July 2022.